TLDR; NetSuite is a cloud-based tool for management of virtually any business. Established in 1998 as NetLedger (back then just an accounting tool) has gone through a long way. At the moment, it's by far the largest and most often used cloud-based ERP by more than 16,000 companies: tiny NGOs, fast-growing scale ups and multi-thousand international enterprises.
Main differences as compared to competition?
Attractive pricing and accessibility by all, thanks for modular approach (start small and grow);
Industry focus, with suites designed for various niches such as Software, Wholesales Distribution, Retail and so on (extended by partners custom made applications called SuiteApps);
Flexibility and easiness of use (open APIs, extensive configurability options coupled with optional scripting);
Unique architecture based on a common database to avoid 'spaghetti' integrations and become a single source of data for a company.
Want to learn more about available modules, pricing schemes and how it works? Read on.
What is NetSuite?
It is 100% natively cloud based tool, which means that all of the data and operations are hosted in Oracle NetSuite data centres. That lets companies set the architecture fast, without having to take care of the infrastructure side. NetSuite provides cloud financials, CRM, ecommerce, HCM and professional services automation management for all organisations from fast-growing midsize companies to enterprises.
NetSuite combines mission critical processes under one roof for seamless experience:
finance management (reporting, accounting, billing, order processing, invoicing, dunning letters)
Inventory and operations management (procurement, inventory, warehouse)
Customer side of things (CRM, customer service, possible integration with front facing platforms such as POS or core platform in the e-commerce or even payment gateways)

There is definitely a lot to say about a company that has twenty years of history. To make things easier, let me use one of the press releases about NetSuite that sums up well in a fact-based manner.
NetSuite is the #1 Cloud ERP. More than 21,000 companies use NetSuite to run more effectively without the high costs and inefficiency of on-premise systems.
NetSuite also offers industry-specific solutions for professional services, software, wholesale distribution, manufacturing, and retail.
NetSuite OneWorld helps global, multi-company organizations manage subsidiaries better with robust multinational, multi-currency support.
NetSuite helps companies manage core business processes with a single, fully integrated system covering ERP/financials, CRM, e-commerce, order and inventory management, and more.
In 2016 NetSuite was acquired by Oracle and became Oracle's GBU (Global Business Unit), essentially working as a wholly owned subsidiary of Oracle.
Today, headquartered in Silicon Valley, NetSuite has nearly 7,000 employees across more than 25 offices throughout North America, Europe, Asia, South America, and Australia. Oracle has over 136,000 employees worldwide, all of whom are dedicated to providing a complete business offering that includes integrated, award-winning support services combined with industry-leading products.
According to a study by Gartner "All Software Markets Worldwide, 2015" NetSuite is the fastest growing Financial Management System on the Globe.
Who is NetSuite for?
Every firm, no matter the size, geography, or the industry, faces many challenges, which typically differ quite a lot. Some of them relate directly to core activities, such as sales, project management, research, and development. Most are caused by a lack of right resources – correct skills, fine-tuned processes, or tools that enforce both.
The largest organisations have already started adopting a company-wide tool called ERP, that stands for Enterprise Resources Planning. In a nutshell, it is a software that allows efficient management of an organism, by enforcing a set of policies and processes applied onto various roles. We will cover the ERP subject in a separate article soon.
Historically only the most significant organisations recognised a need to implement such software and were wealthy enough to afford large, bulky on-premise systems such as SAP or E-Business Suite (or EBS for short). They are characterised by a necessity to maintain not only the software implementation and support. Such a solution required expensive data centres with hardware, utilities, and additional staff alongside them.
NetSuite's approach is different. From the beginning it was designed as a cloud application (mind that - it was 1998!) which allows access to just fragments of the entire system. It means that historically expensive solutions became available at a fragment of the usual cost.
Currently it is used by customers in virtually every industry with particularly strong focus on
Software (startups, scale ups, enterprise level)
Distribution
Apparel
Non-government organisations
Food and beverage manufacturers
Services (consultancy, advertising, media, publishing - AMP for short)
Manufacturing
NetSuite is cloud based, mobile friendly, social welcoming and new-era ready. Easy to use and agile at core for any type of user.
Internationality
Companies present in more than one country love NetSuite. To the extent it basically became an industry standard for international tech companies and everyone at some points goes for NetSuite or at least thinks of it.
It is supporting 190 currencies, 20 languages and compliant with tax laws in over 100 countries. It is literally built for growth and rapid expansion.
Another strong side of it when it comes to 'internationality' of NetSuite is its ability to handle multi subsidiary structures from many angles such as
Process setup (standardised across versus differences locally)
Reporting angles (variety of reporting methods and dimensions: geography, subsidiary, custom dimensions such as regions etc.)
Reporting granularity (it literally takes 3 clicks to move from CFO high-level point of view, to a single record such as invoice data)
Going public?
NetSuite is easily accessible due to its rapid implementation and attractive prices but it is a super solid and well recognized software in the industry across the board. Numbers speak for itself.
63% of technology initial public offerings in the US over the past 7 years were companies that use NetSuite.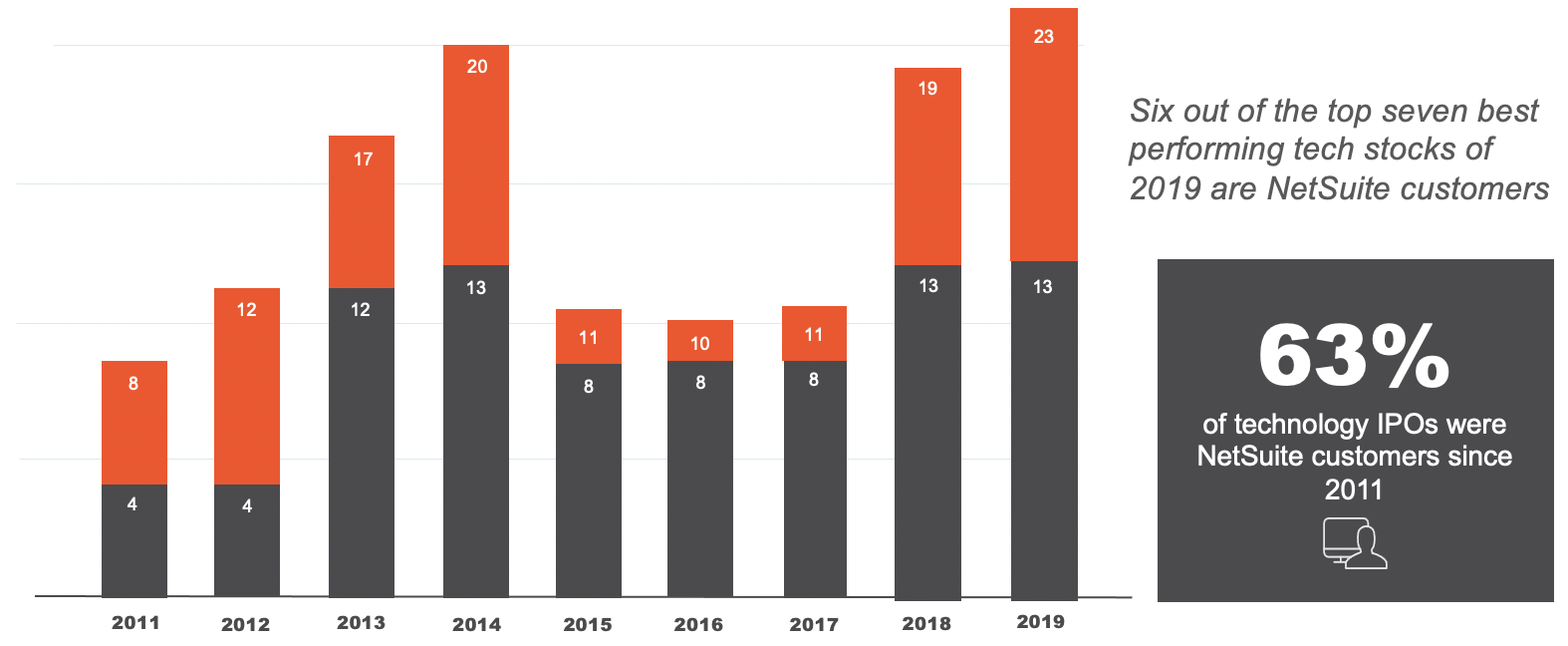 Non-tech companies go for NetSuite too as 64 NetSuite customers IPO'ed between just 2017 through 2018!

Is NetSuite for me?
It depends. To be precise, it depends on what your needs are. NetSuite is arguably the best Cloud ERP out there (and definitely in the top of the list). Are any of the objectives listed below your goal?
Establishing of the processes driven, highly automated entity;
Improvement of transparency in the organisation;
Strengthening of areas related to the customer, order financial, revenue or support management; or
You are planning on a rapid business or geographical expansion.
If the answer is yes to any of the above, then high chances are that you will love NetSuite.
Otherwise, if you're only looking at a simple accounting solution that will issue invoices and you don't see your company grow beyond that, then Quickbooks or any solution alike will most likely suffice.
My best advice is that you take a look at the system by yourselves. You can reach out to atstratus consultants to take a look at the demonstration, or simply read through our knowledge center. You will find dozens of free data sheets and whitepapers to answer some of your questions.
What are NetSuite modules?
NetSuite ERP
(Enterprise Resource Planning)
It is the most robust solution available in the market, which made it the most deployed Cloud ERP solution worldwide. Its' scalability made it a perfect solution for both small and large businesses, which may be growing at different pace.

Powerful modules vary from accounting software, through production management, supply chain to procurement giving complete freedom of choice.
NetSuite ERP Benefits
NetSuite ERP allows you to choose those functions that will answer your most burning requirements. Which ones? Freedom of choice is yours. Unique architecture allows you to choose certain modules and atstratus will help you to pick those that will be right for you. We recognise your business' need to pivot.
Robust ERP driving business processes
Broad range of available solutions allows NetSuite's users to tailor it to their business processes where necessary to boost growth and innovation.
Integrated visual analytics
Data is new oil, but misunderstood data is a burden. Built in Business Intelligence provides an insight into numbers with visual analytics that will be easy to interpret for the business users.
Built to sustain growth
Scalable and flexible – you can add modules and number of users depending on what it is that your business currently needs.
NetSuite ERP Features
Financial Management
NetSuite's Financial Management has been proven as a reliable solution driving day-to-day transactions, financial close and compliance in thousands of various organisations. It is based purely on a Cloud which equals real-time insight into operations from anywhere at any time. It seamlessly integrates with other modules, including CRM, Omnichannel Commerce and others.
Key features:
Finance and Accounting
Billing
Revenue Recognition
Financial Planning
Financial Reporting
Global Accounting and Consolidation
Governance, Risk and Compliance
Order Management
Usually the weakest link in the process is a human – a reason for errors and bottlenecks. NetSuite's Order Management streamlines sales activities from issue of the quote to fulfilment, helping save time and increase revenue as well as level of compliance.
Key features:
Pricing and Promotions
Sales Order Management
Returns Management
Production Management
Production Management reduces time to market and cost of goods sold by optimising cost of quality. It allows you to manage multiple production sites that may vary in terms of delivery capacity. With the solution you will improve time to delivery, accuracy of costing and schedule tracking.
Key features:
Product Data Management
Work Order Management
Planning and Scheduling
Quality Assurance
Manufacturing Execution
Supply Chain Management
Supply Chain Management gives real-time visibility into operations no matter where they are, while increasing service levels with automated order management rules. That type of insights allow you to reduce your delivery costs by identifying cost variances as they come.
Key features:
Planning
Execution
Collaboration
Support
Warehouse and Fulfilment
While increasing the top line of the balance sheet is essential, winning organisations know that optimising bottom line is equally important. It matters how efficiently you can control your inventory management cost, optimise maintenance of the warehouse and increase labor productivity.
Warehouse and Fulfilment enables businesses to lower TCO and manage resources holistically to improve overall performance.
Key features:
Inbound Logistics
Outbound Logistics
Inventory Management
Warehouse Management System
Procurement
NetSuite's procurement will give you an overall view over and automate procure to pay processes to improve cash flow and reduce payment timelines. Your organisation will improve costing accuracy to understand where it really is in the volatile growth markets. By having the whole solution integrated with other NetSuite modules you will improve compliance of the organisation.
Key features:
Human Capital Management
There is no more valuable asset than your employees. NetSuite HCM will allow you to make sure that they are adequately engaged and rewarded for their priceless work from the day they start, until their retirement. The solution will give you an insight into your organisation and empower business to manage the hierarchy across the borders.
Key features:
Core HR Capabilities
Payroll
Employee Center
HR Analytics
NetSuite OneWorld
Nowadays World will not wait for you and those who cannot keep up will lose the game for market dominance.
OneWorld delivers the ability to manage multi-subsidiary organisations dispersed across geographies, but also languages, currencies and tax regulations. All of this at a fraction of an expensive and stiff on-premise ERP

NetSuite OneWorld Benefits
OneWorld supports multiple areas of the multinational businesses ranging from accounting and compliance, to sales, resources planning and analytics that provide an insight into any level of the company within any geography.
Multi-subsidiary management
Designed with multi-subsidiary organisations in mind – across borders and laws.
Available anywhere, anytime
Cloud based architecture makes NetSuite available anytime, from virtually anywhere in the Globe. That is a perfect solution for dynamic individuals who seek for flexibility and top notch quality of service that will support their dynamically developing businesses.
Compliance with regulations
NetSuite allows seamless management at global level but at the same time is localised to local regulations. That – as a result – allows the business to remain compliant locally and file reports at a mother company level in a transparent way.
NetSuite OneWorld Features
Global ERP
Efficient management of the multinational organisation simply cannot happen while juggling Excel spreadsheets. In order to efficiently manage business processes, optimise your employees productivity and get detailed insight into your bottom line you will need a solution that allows you to consolidate your views across the units and automate your daily tasks. NetSuite OneWorld allows you to achieve all of these and more.
Key features:
Indirect Tax Compliance that offers automation and transparency in reporting
Compliance to finance and accounting regulations used in more than 110 countries
Tax codes preconfigured for ~50 countries and a configurable indirect tax engine
Support of more than 190 currencies and various payment options
Always-on audit trail with built-in analytics and enhanced compliance support
Global BI
Data serves as an insight to all levels of management, however, at the same time it is not an easy task to harness it. Imagine all the systems, varying from customer facing channels to back office. All of them integrated in a spaghetti manner and prone to errors and duplications.
Correct decisions rely on quality of available data. Unique architecture of NetSuite that is integrated across all the channels and available in the Cloud provides your business with that demanded capability of real-time dashboards depicting state of your business in order to understand trends as well as ability to drill down into transactions.
Key features:
Insight into performance across all the business function, at all levels of details
One and only version of truth with 360 degree view over your business and customers
Available from anywhere, at any time in a real-time through mobile devices and all types of web browsers
Easy to use, self-service reporting tools with no requirement of programming knowledge
Global Services Resource Planning
End-to-end Services Resource Planning cuts across a set of integrated solutions such as Customer Relationship Management, Professional Services Automation, Enterprise Resource Planning. It allows your business to monitor projects to speed up bid-to-bill lifecycle and improve cash flows as well as eliminate any possibility of revenue leakage.
Key features:
Projects Management to collaborate across teams and resolve potential issues
Resources Management to take care of project staffing and optimise usage of team members
Project Accounting to connect field financials with bigger picture
Timesheet Management to quickly and easily submit time usage from anywhere
Billing that allows to manage various types of payments, from one time off to recurring payments possibly dependant on achievement of the milestones
Analytics to monitor and report on project performance
Customer Management to understand customer's profile from the moment of lead creation until billing and support
Expense Management that allows monitoring and tracking for cost consciousness and compliance purposes
International Capabilities
Today businesses face growing regulatory requirements and potential risks of financial penalties if the latter ones are not met. More often than ever system-based tax audits are performed. When driving an international business you require a solution that will look at your organisation holistically giving you an assurance of 100% compliance and transparency. NetSuite OneWorld is equipped in tax and compliance management capabilities that respond to requirements from more than 110 countries globally, giving you peace of mind and ability to focus on your core business.
Key features:
Indirect tax compliance automation and management
Compliance with financial and accounting regulations across the borders
Tax engine that allows to tailor rules basing on your unique demands
Multi currency management
Audit and compliance reporting
Electronic payments processing across the borders
Multilingual user interfaces
Global Commerce
NetSuite has backed tens of thousands of businesses since its visionary inception in 1998. As one of few it integrates with backend processes, providing its users with a holistic process of managing orders from moment of lead creation until billing and goes beyond that taking care of production, inventory and else.
Key features:
B2C Commerce allows to create personalised experience through various channels
B2B Commerce takes care of the enterprise customers yet providing similar personalised experience tailored to your business partner
Order Management integrates to all the channels and geographies providing seamless experience
NetSuite CRM
(Customer Relationship Management)
NetSuite CRM offers a set of traditional features such as Sales Force Automation, customer service management or marketing automation but in addition to that it manages the sales aspect as well: quotes, order management, commissions and forecasting.
What is also unique is that it integrates with other NetSuite modules – such as SuiteCommerce – delivering a real 360 degree view of the customer lifecycle.
NetSuite CRM Benefits
Customer is always right – that mantra is known to everyone. You need to make sure that you understand your customer in order to provide him with an accurate service. It has to happen quickly and in a manner that will be convenient for your customer, to increase chances of up-sell, cross-sell and recurrence of the service.
Cash flow improvement
Improved cash flow with seamless lead-to-cash process, no matter which channel is the lead coming from and what is the customer's lifecycle.
360 degree view of customers
Tailor services to your customers' needs by understanding what their requirements really are. Up-sell and cross-sell by providing additional value to your customers.
Improved sales productivity
Enhance productivity of your field sales and your business predictability by accurate forecasting and commission management.
NetSuite CRM Features
Sales Force Automation
Boost sales performance with integrated processes for management of the opportunity from its' inception to closure, and beyond. NetSuite's Sales Force Automation distinguishes itself by providing your sales full view of the customer – it's support cases, contracts history etc. That increases not only chances of closure, overall productivity but also relationship with the customer and its' satisfaction with your services.
Key features:
Opportunity Management that links sales process with the customer's buying process
Sales Forecasting that cross-checks sales forecast against checks and balances to increase the accuracy
Quote and Order Management streamlined across systems
Incentive Compensation Management that provides accurate calculations to allow sales representatives focus on selling
Customer Service Management
NetSuite's customer service management solution helps to drive incremental revenue by providing a truly 360 degree view of customers, increasing their satisfaction and lowering service costs. Your customer facing units have access to all relevant data in real time allowing them to open new opportunities.
Key features:
Case Management supported across various channels including web, mobile, phone etc.
Customer Portal provides your customers with personalised service boosting their satisfaction
Knowledge Management solution allows both your sales force and customer to track content that they need effortlessly
Time Tracking gives your service reps opportunity to assess how much time was spent with an individual customer
Marketing Automation
Automate the entire marketing process by efficient management of multi-channel marketing campaigns, aligned to your customers' needs and programs run by the sales teams. Qualify hot leads and measure success of the marketing campaigns, increasing conversion ratios.
Key features:
Lead Reporting and Analytics to measure ROI in a real time
Website Search Engine Optimisation (SEO) to design easy to find pages and engage with customers fast
Campaign and Email Management to run mass marketing campaigns efficiently
Landing Pages and Forms that allow easy creation and roll-out of new campaigns and creation of templates
Partner Relationship Management
Boost collaboration with your partners and enhance control over partner focused processes such as marketing campaigns, pipeline management, forecasting, orders processing or royalties. Execute strategies successfully with a mix of partner management and project management solutions.
Key features:
Allow your partners to register new opportunities and measure acquisition costs
Your partners can register new opportunities giving you full transparency without keeping your staff occupied
Monitor efficiency of your partners' efforts when running marketing campaigns
Give access to content that is relevant and important to close new deals
NetSuite PSA
(Professional Services Automation)
PSA takes care of every aspect of your project resulting in improved delivery timelines, cashflows, resources utilisation and profitability.
It manages the entire bid-to-bill process and as it changes NetSuite has capability to adapt thanks to configurability and extensive capabilities in project management, resource planning, financials, billing and invoicing.
NetSuite PSA Benefits
Professional Services Automation allows your business to monitor projects to speed up bid-to-bill lifecycle and improve cash flows as well as eliminate any possibility of revenue leakage.
Complete insight into your projects
NetSuite's Professional Services Automation will give you an insight into all of your projects with possibility of drilling down into details of each of them, whether it is around project finances, delivery, resource utilisation. In no time you will realise that your projects are delivered on time and their profitability boosted.
Pre-integrated tooling
The solution is composed of pre-integrated modules that altogether make an extremely powerful solution that looks after all areas of the project.
Total control over the project
PSA will give you full control over the project no matter which area needs improvement or you need to be in full charge – delivery, billing, finances, or your own resources.
Whether you are struggling to gain control over your projects, accurately invoice your clients or deliver more with less, NetSuite Professional Services Automation solutions have you covered.
NetSuite PSA Features
Project Management
Project management as a part of PSA will allow you to drive successful projects by enabling you to collaborate with your team members in a real-time and through Cloud based NetSuite solution you will be able to manage margins and estimate profitability better. That and more functions will result in precise project delivery and proactive resolution of potential issues.
Key features:
Visibility over entire project with Gantt charts and project status snapshots
Control over red flags with ability to drill down to task level
Quick and feasible project set up process based on templates and duplication capabilities
Deep insight into project profitability with revenues, margins, estimates, costs, bookings etc.
Detailed budgets monitoring with what-if scenarios analysis
Resource Management
Resource Management will enable your team to work efficiently, being utilised at an optimal level. That will boost morale as well as help to retain best team members and strengthen customer relationships. You will enhance productivity by managing all of your projects from one 'centre of command'.
Key features:
Streamlining of the resources request
Forecasting of the resources occupation and allocation
Skills monitoring that allows allocation of right resources to right tasks
Project Accounting
Project management is not only about delivery of the service, but also the budget management. Lack of insight into financials is a disaster waiting to happen. NetSuite Project Accounting will give you ability to tie project's finances to a bigger picture of the company to assess viability to deliver and ensure correct reporting. It is integrated with other NetSuite modules automating accounting at a wider level.
Key features:
Automated invoicing integrated with general ledger
Automated revenue recognition process
Detailed project profitability reporting
Billing
How would you manage your growing business billing needs? Unless your processes are automated and flexible in terms of type of billing supporting transaction, subscription, usage-based and any hybrid models you're putting your company's existence at risk. NetSuite allows to do all of this while being in accordance with revenue recognition standards. It turns billing into one of the most strategic competitive advantages.
Key features:
Transactions, subscriptions and projects connection to the billing engine
Creation and management of subscriptions and support for recurring billing
Integration to revenue management solution
Creation and management of rating models
Timesheet Management
Your employees should be spending hours on work, not on 'entering hours'. A Timesheet Management system should be as simple and flexible as it can get to capture data quickly and in a convenient way for your employees.
Key features:
Ability to enter time spent on certain activities
Assignment of approval rights to accept time entry
Integration with other NetSuite modules to have a holistic view over your organisation
Expenses Management
Expense management should be as accurate, seamless and compliant as possible, especially in a billable services organisation. NetSuite's Expense Management integrates directly with PSA allowing you to manage the entire project's finances.
Key features:
Flexible and accurate expenses' reporting
Submit/approve workflows for compliance
Simple and easy to understand interface to get things done
Analytics
You need a very clear view into profitability and delivery status of your projects. NetSuite Analytics will give you that and more with easy to use and build dashboards, that will give you an insight into resources utilisation, margins, issues monitoring and more.
Key features:
Dashboards available at any time
Flexible easy to build reporting that will cater for changing needs
Based on templates or customised views
How does NetSuite work?

The popularisation of the Internet in the late '90s and '00s brought a drastic change to the landscape of client-server applications. Businesses across the board started realising that they do not have to pay hefty amounts of money for usage of the software. Instead, they started leaning towards software provided as a service rather than a product. A soft drinks distributor is not paid for IT services but rather sales of sodas, isn't it?
Single Database Platform
A wave of the business model change brought first companies that provided its products out of large, centrally maintained data centres. NetSuite, subject of this short brief, and Salesforce, a widely known CRM provider, were the first two cloud companies ever erected.
Benefits of the cloud computing model are many, and that will require a separate page. However, many recognise it as superior to an on-premise model for its flexibility, cost efficiency, and ease of set up. Let reality speak for itself though – who has heard of a recently set up software company that provides on-premise solutions…?
Most of the software vendors build their solutions around 'the blocks.' These blocks are very often the pieces of solutions coming from various acquisitions. Some of them may be hosted natively in the cloud, while some of them are just hosted in an on-premise mode in a vendor's data center remotely (there is a difference – that's going to be a subject of another post). These blocks may be integrated, but they will never work entirely seamlessly, as their data is dispersed and were not designed to work together from the ground-up.
Since its inception, NetSuite has been executing its vision of an ERP that covers all business areas of a mid-market player. One of the main assumptions was to create a holy grail of any ERP or analytics solution – a 360-degree view of the business. NetSuite managed to achieve that by building all of its blocks always on a single database. As such, you can slice it and dice it. Assign projects to customers, costs to projects, sales to customers and companies, and expenses associated with transactions. Almost every request like that is an out of the box feature or an option that can be configured without any customisation (which means lower implementation risk and lower cost).
Automatic Upgrades / Customisations
Everyone who went through an ERP upgrade realises how painful is such experience. It is different with NetSuite, thanks to the cloud based architecture.
100% of NetSuite customers run on the same release and stay fully up to date with the newest releases of the system. The major upgrade happens automatically twice every year with ongoing minor upgrades and bug fixes ongoing on a regular basis. Release preview environment is given to the clients to make sure that all the customisations carry forward and that there is no change in code required.

It is a humongous time and money saver, as there is no new 'upgrade' projects that take ages and eat up precious internal resources and budgets simply to move up in a vendor's licensing ladder.
How much NetSuite costs?
Minimum duration of the contract that your company signs with NetSuite is one year, however, it can be extended up to three. That comes with a major benefit of locking in the price that you negotiate at the beginning for the whole duration of the contract.
Due to NetSuite's licensing flexibility and variety of functional modules, the process of creating a right package should be well understood. That proper understanding will impact how successful your negotiations are. That in turn will define commercial conditions for your subscription going forward.
For the starters, there are three main components that this document breaks down and explains. On the top of that it touches on the conditions that customer and NetSuite agrees on, to meet each other's financial and functional needs. Let's start with the four building blocks of the solution itself:
NetSuite base editions;
Additional NetSuite modules;
Types of users; and
Sandbox environment.
NetSuite Base Editions
There are three most basic configurations of NetSuite: NetSuite ERP, NetSuite CRM+ and NetSuite OneWorld.
NetSuite ERP is typically implemented by companies that search for a system that thoroughly supports accounting, purchasing, inventory, real time dashboards and caters for basic customer relationship management needs. The only major limitation of that suite is the fact that it cannot manage multiple subsidiaries without OneWorld module.
NetSuite OneWorld patches the latter gap and enables support of companies that run multiple subsidiaries. It enables multi-company and multi-org support in a single NetSuite account, as well as segregation for ERP and G/L for each subsidiary.
NetSuite CRM+ is geared towards customer relationships management. It provides sales force automation with quote and order management, marketing automation, support and productivity tools etc. It lacks ERP related functionalities and hence it comes at the lowest price point.
Almost every Suite Edition comes at three levels: Limited, Mid-Market and Enterprise
Edition level depends on the size of the company that is implementing NetSuite and impacts relationships with NetSuite – level of support, types of interactions and discounts on subscription costs. Typically, below rule applies when choosing the level:
Limited: 0-10 employees
Mid-Market: 10-1000 employees
Enterprise: 1000+ employees
NetSuite Advanced Modules
NetSuite can be extended by tens of modules, that can be procured, or used free of charge in some instances, and added to the solution at any point of time after an initial implementation. The sole purpose is to expand NetSuite's capacity by adding further building blocks, for example: NetSuite Financial Management Cloud Service (formerly Advanced Financials), NetSuite Inventory Management Cloud Service (formerly Advanced Inventory), NetSuite Dunning Letters Cloud Service, NetSuite Advanced Manufacturing Cloud Service… The list is long.
Each of the modules comes at an extra cost, however, it does not matter how many NetSuite users your company has – the price of the module is fixed, and all users have access to the module you procured with no additional costs.
The modules can be bundled into industry focused Suite Editions such as for example Retail, Services, Services Resource Planning, Advertising, Software, Wholesale/Distribution, Manufacturing, Social Impact or Food & Beverage.
Such industry focused Suite comes with ERP and CRM capabilities by default, and functionalities which are priced more attractively than when sold separately.
For example NetSuite Wholesale/ Distribution Mid-Market Cloud Service includes:
ERP, CRM functionalities;
NetSuite Inventory Management Cloud Service (formerly Advanced Inventory);
NetSuite Demand Planning Cloud Service;
NetSuite Grid Order Management Cloud Service
NetSuite User Subscription
There are two types of user licenses General Access Users and Employee Self-Service Users:
General Access User is a typical NetSuite user account that uses it for daily work – support representatives, management, accounting or finance staff, etc. Basically, whoever needs to actively work with NetSuite.
Employee Self-Service Users are dedicated for employees who need basic functionalities or view access, for example entering time or expenses. They come in bundles of 5.
NetSuite Sandbox
Sandbox is basically a test environment that your company will need in case of developing any customisations. It protects from any sort of failures or data corruptions that are the result of a development done on a Sandbox environment without affecting the production environment.
Typically, companies decide to deploy one Sandbox, but it is possible to buy more as well. Remember: Sandbox environment is optional.
To sum up – in order to calculate the total price of your subscription, you can follow the calculation below: Suite Edition + Modules + Users + Sandbox (optional).
Where do I learn more about NetSuite?
This page is probably the best way to start, alternatively you may want to check out netsuite.com.
If you prefer more of a human touch, simply drop a comment here or contact one of atstratus consultants directly :).